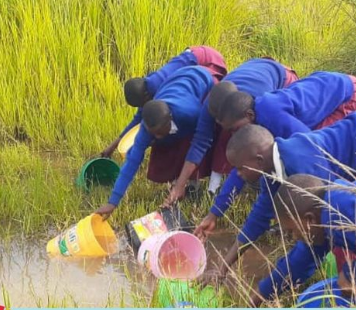 Friends of Tanzania is most widely known for providing general fundraising efforts to fund grant applications for projects in Tanzania. We are excited to announce a special opportunity that will allow you to choose exactly how your support will be used! FOT is partnering with a cooperative group, Mboni ya Vijana, that has perfected a low cost, reliable method of hand drilling for water and constructing rope pumps that can be easily maintained locally.
FOT was connected to Mboni ya Vijana through our partnership with the Tanzania Development Trust (TDT). Similar to FOT, the TDT is a British volunteer-operated charity projects in Tanzania for 46 years. One of their local representatives in Kigoma is the founder of Mboni ya Vijana. So far they have successfully constructed over 50 wells like the one below, bringing clean water to over 30,000 people. But the need is still huge.
FOT is raising funds for three new wells to serve 3,500 individuals in Kigoma. The local geology favors this type of low-cost technology to counteract the droughts and poor access to clean and safe water for domestic and agricultural use. Streams and ponds are drying, leading to desertification as the result of climate change. If not addressed soon, the lack of water will lead to reduced crops and widespread hunger.
The locations of the boreholes are three of the most in-need government secondary schools currently getting water from streams over 1 km away: Muzye Secondary School, Buha Secondary School and Matendo Secondary School. This project will replace dirty surface water sources with clean underground water obtained from boreholes close to where the water is needed, bringing health benefits and reducing the time women and children spend walking long distances to fetch water.
Project Investment Opportunities
$6,000 - fund the entire project to provide 3,500 primary school students access to clean water

$2,000 - fund the construction of an entire well to provide access to clean water for one primary school

$1,000 - fund the rope hand pumps necessary to access the water from the well

$500 - fund the drilling equipment necessary to dig a deep well that will provide water even in the dry season

$250 - fund the skilled labor of water engineers to ensure these wells will be operational for years to come

$100 - fund the training of community members on clean water access and maintenance of the well

Funded: $4,900.00
Goal: $6,000.00
---